Victoria Mavericks look to win gold medal on home soil at Wilson's Group Stadium, first players named to roster
VICTORIA, B.C. — It's the second and final chance for Victoria to both host and win the Baseball Canada Men's Championship, and a nationals veteran coach and someone well-known in the market will lead the team on the field.
Jim Swanson, also the Managing Partner of the Victoria HarbourCats, will be the Manager of the host Victoria Mavericks when the tournament is at Wilson's Group Stadium at RAP, August 22-26.
Swanson, who has coached in five previous national men's tournaments yielding two gold medals and two bronze medals, will be joined by coaches Troy Birtwistle (third base), Scott Thompson (bench coach) and Mike Cressey (first base). Birtwistle has been to many nationals and coaches with the HarbourCats, while Thompson, also from Victoria, was head coach of the 2008 national championship Victoria team when the event was in Brandon. Cressey and Swanson were both on the staffs of the 2012 (Prince George Axemen, in Prince George) and 2014 (Langley Blaze, in St. John's, NFLD) national champions.
Swanson also earned bronze in 2002 (PG Axemen, in Kentville, NS) and 2007 (Team BC, in Quebec City).
"This is an exciting opportunity, to build a team and work to get to the medal round at this great tournament," said Swanson, 49. "Some of my favourite moments in baseball have been at nationals — there's always so much on the line with every pitch, it seems, and the teams are really fired up."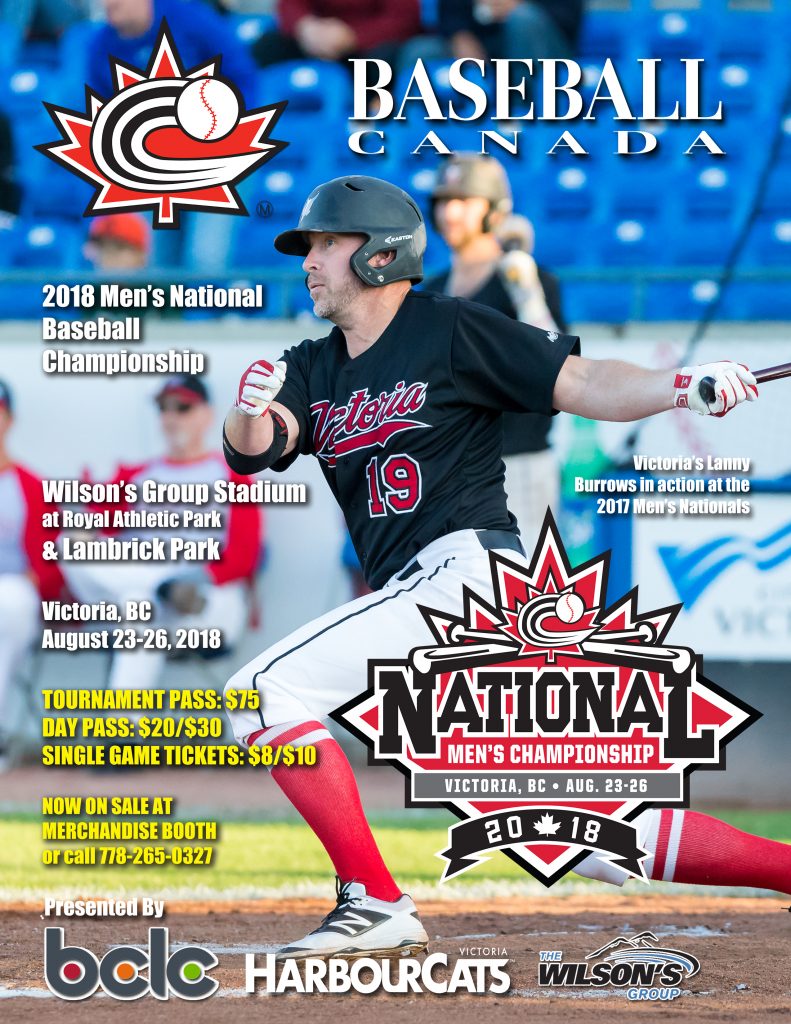 The Mavericks are in a tough pool in the 10-team tournament, and will face two of the top seeds right out of the gate. The feature game on Thursday, Aug. 23, 7pm and right after the opening ceremonies, will see Victoria face perennial contender New Brunswick, represented by the Moncton Mets. This is the full Mavericks schedule, which can be viewed at this Baseball Canada link — http://old.baseball.ca/seniormen/index_eng.cfm?content=schedule
Thursday, August 23 — 7pm, vs. New Brunswick (Moncton)
Friday, August 24 — Noon, vs. Ontario1 (TBD)
Friday, August 24 — 7pm, vs. Nova Scotia (Sydney)
Saturday, August 25 — 2pm, vs. Team Manitoba
Each team can have a 21-player-maximum roster, which makes for interesting decisions. The first 10 being announced today include three former or current HarbourCats — infielder Broden Bydeweg of VIU, lefty pitcher Dylan Thorp, and right-hander Garrett Goodall from Embry-Riddle, the top starting pitcher for the HarbourCats this season.
"There is experience, depth, speed and power available to us, which plays well at our park," said Swanson. "We have to match up with the best in Canada, and we have the players in Victoria, the Island, and close-by in Vancouver to put the right group together. There are a lot of good players among our options to get to that roster of 21."
The Mavericks are also the host team for the 2018 B.C. Men's Provincials, at Lambrick Park on the August long weekend, and that squad will play the HarbourCats this coming weekend (July 28-29) at Wilson's Group Stadium, part of the Chilliwack concert the HarbourCats are holding at the park.
Named today for Nationals, as the first 10, includes the three Goodall brothers — Garrett, Liam and Aidan — from Nanaimo, a trio of infielders from Victoria in Duncan Blades, Lanny Burrows and former MLB prospect Kyle Orr, and pitcher Josh Larsen, who was with the national champions from Burnaby last August. Blades, Burrows, Orr, lefty Jason Gibson, Liam Goodall and Aidan Goodall were on the Mavericks in 2017.
INFIELDERS
Duncan Blades, Victoria
Broden Bydeweg, Vancouver
Lanny Burrows, Victoria
Kyle Orr, Victoria
OUTFIELDERS
Liam Goodall, Nanaimo
PITCHERS
Josh Larsen, Vancouver
Jason Gibson, Victoria
Garrett Goodall, Nanaimo
Aidan Goodall, Nanaimo
Dylan Thorp, Vancouver
"More players will be added after provincials, when we see what happens there. The Mavericks team was 2-2 and narrowly missed the playoffs in the 2017 Nationals," said Swanson. "There are a few decisions to make. More of those who played last year will be named closer to the roster deadline, and you're always looking for that right mix on the pitching staff. We'll be able to hit and play defence, we need to pitch better than anyone else to win it."